It can be said that at the moment, BTS is the most famous Kpop group in the world and has the strongest global influence. With a strong fan base spread across the globe, along with a series of international achievements, BTS has long become the "idol of idols". 7 boys "bulletproof youth union" is not only a model of a series of Kpop artists. but they are also "idols" of many famous US-UK stars. Here are some US-UK artists who have openly confessed their feelings and even offered to collaborate with the HYBE boy group.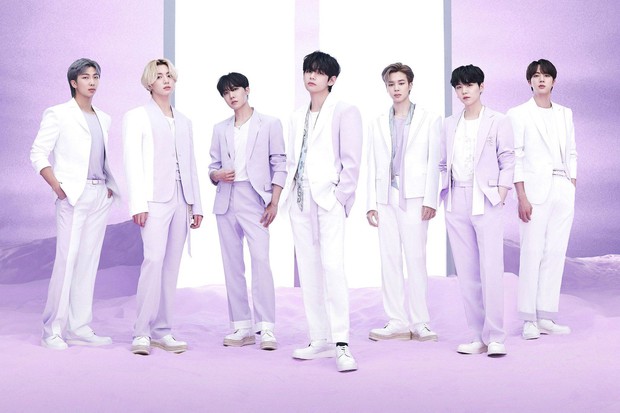 (Photo: HYBE Labels)
Lizzo
Although Lizzo once made the ARMY community (BTS's fandom name) angry when making rude jokes about BTS, it is undeniable that the famous American female rapper is still a true fan of the group.
Lizzo covers BTS's song Butter (Clip: YouTube BBC Radio)
In 2019, after Lizzy's joking controversy broke out, she still went with 4 members of BTS to Harry Styles' concert. The 4 members shared a video singing along to the song Falling during the concert, Lizzo re-shared this BTS post with photos of her with Jimin and V, tagged with the hashtag "VMINZZO". The American rapper previously wore a t-shirt with the words "VMIN" while covering BTS's song Butter on BBC Radio 1's Live Lounge show.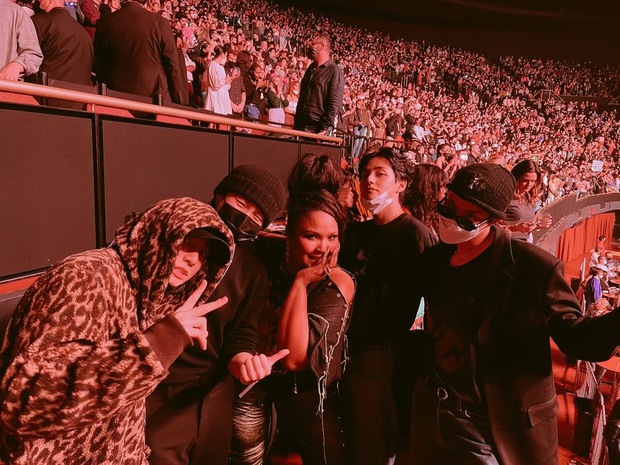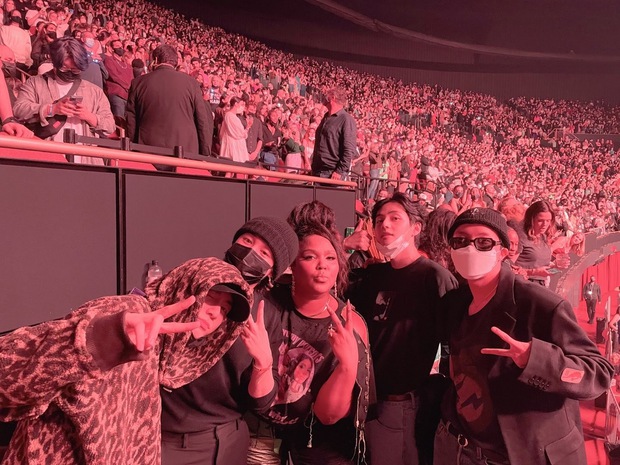 Lizzo with BTS members at Harry Styles concert (Photo: Twitter Lizzo)
On July 6, Lizzo posted a clip on Tiktok. In the clip, she is playing with a potted plant, but what catches the attention of fans most is the BTS song " Magic Shop " used by the female rapper as the background music. This is a b-side song released 4 years ago, proving that she is a very hard-working fan of BTS's old and new music. The clip earned 2.8 million views and 469 thousand likes on Tiktok.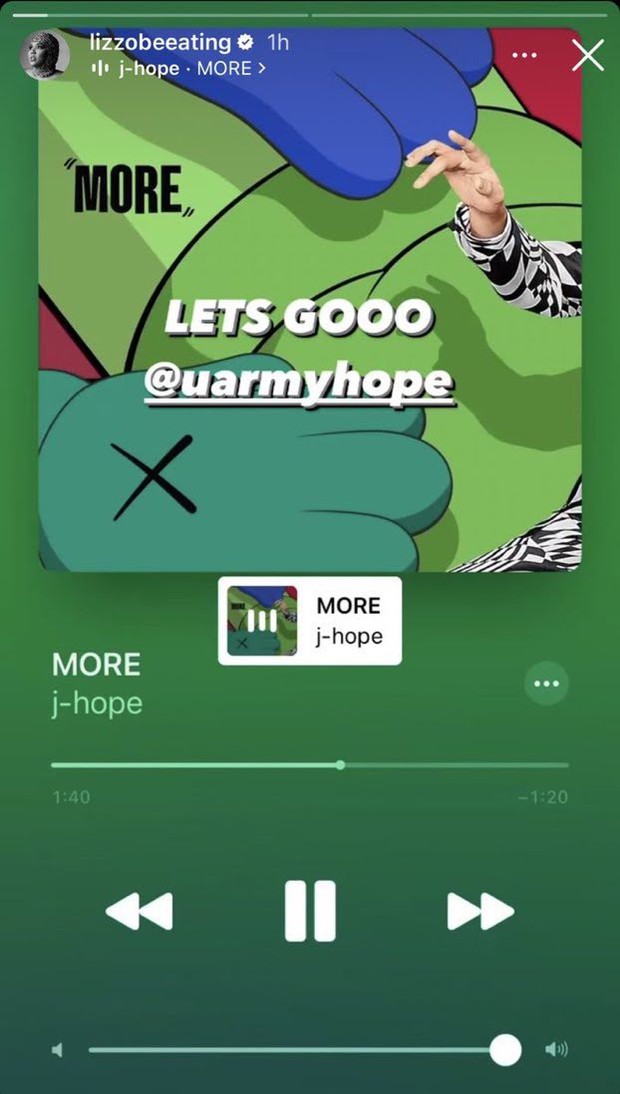 Lizzo is not only a true ARMY but also a friend when PR for J-Hope's song MORE (Image: Instagram Lizzo)
Cardi
As the host of the American Music Awards 2021 , Cardi B once made the global ARMY community extremely excited when introducing BTS's appearance in a super funny and "muddy" way.
The female rapper was very excited when introducing the stage of the collaboration between Coldplay and BTS with the hit #1 Billboard Hot 100 – My Universe : " Calm down, I don't want to go crazy. But the next stage will be We have the best group in the world, performing together for the first time. Let's welcome Coldplay and BTS ."
Cardi B introduces the stage of My Universe combining Coldplay and BTS (Clip: YouTube ABC)
The introduction wouldn't be worth mentioning when she didn't suddenly turn into… a passionate fangirl, she shouted the names of Coldplay and BTS in an extremely… agitated, even jerking, gesticulating manner. The audience below couldn't help but laugh.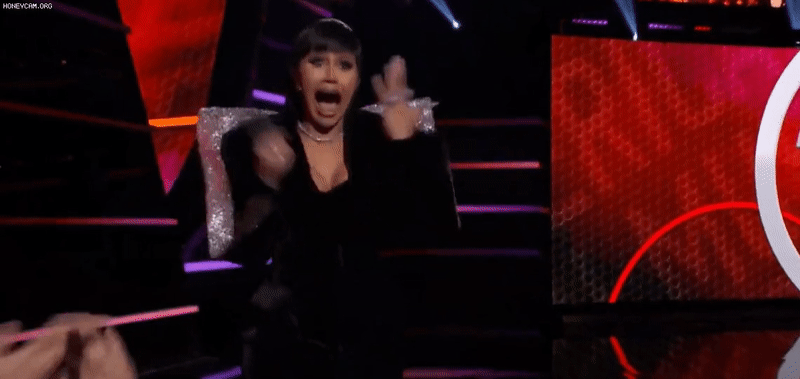 Cardi B suddenly turned into a crazy fan when introducing BTS' collaboration stage
According to Cardi B once told, her little daughter is a big fan of BTS, every time she asks to play music, the female rapper knows that her daughter wants to listen to the group's music. Previously, the female rapper shared with fans about the collaboration with BTS, they even finished recording, but due to the same comeback schedule, the two still have not had the opportunity to release that product.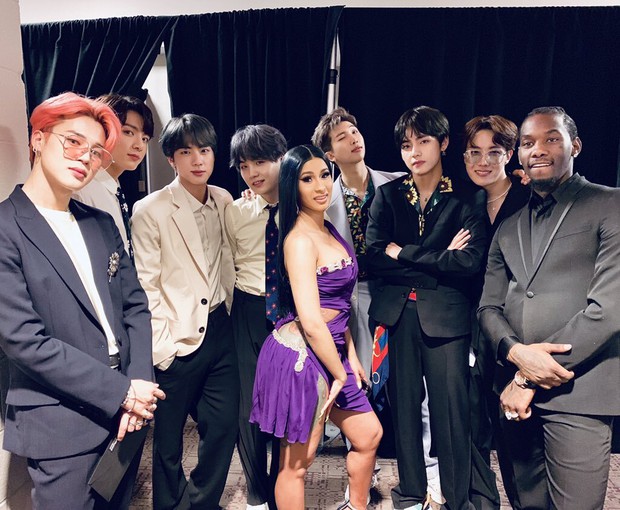 Hopefully in the future, fans will soon hear a product combining Cardi B and BTS (Photo: Twitter Cardi B)
Shawn Mendes
BTS and Shawn Mendes once had the opportunity to meet backstage at the American Music Awards in November 2017. In a later interview, Shawn Mendes once whispered about the beauty of the "bulletproof teenage boys": " They are really sweet. They are probably the nicest guys I've ever met. I can't believe that someone can be so beautiful ."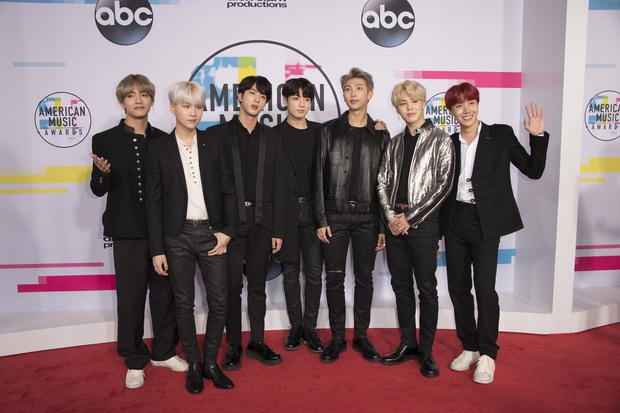 Shawn Mendes and BTS had the opportunity to meet at the 2017 American Music Awards (Image: Twitter)
The Canadian star did not forget to share his thoughts on BTS's performance at the 2017 American Music Awards : " Their stage is really great. I've rewatched their video hundreds of times. I feel like it's a movie. the movie had to be re-shot a thousand times to reach perfection, but they did it in just one live broadcast. "
BTS's DNA stage at the 2017 American Music Awards (Clip: YouTube Kookies And Cream)
When asked about his desire to collaborate with BTS if given the opportunity, Shawn immediately agreed without hesitation: " Of course, I would be happy if it could be, and I think it would be great ".
Halsey
Before collaborating with BTS in Boy With Luv , Helsey was already a genuine fangirl of the group. She first met BTS at the 2017 Billboard Music Awards . She was very excited and did not hesitate to comment, " They are the coolest guys! "
Halsey and BTS at the 2017 Billboard Music Awards (Image: Twitter)
She happened to have a concert in Seoul later and took this opportunity, she met BTS again and said, " There's no way I'd go to Seoul without meeting these guys! ". The two had a great time together. The boys gave Halsey many gifts and she excitedly showed them off on Instagram.
On the same day, Halsey also celebrated her two-year friendship with BTS by sharing on Twitter how lucky she is to know them and that they have truly inspired her.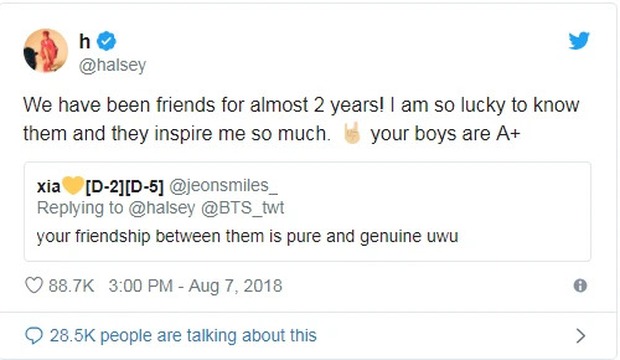 Halsey's post celebrating 2 years of friendship with BTS: "We've been friends for 2 years! I'm so lucky to know them and they inspire me a lot" (Photo: Twitter Halsey)
The owner of the hit " Without Me" is such a true fangirl of BTS that many Halsey fans whisper to each other that, if you want to get Halsey's reply to comments, just say that you are a fan of BTS. This method seems to be very effective, as evidenced by a fan commenting on Halsey's Twitter: " I like BTS so much! ", immediately the female singer responded with an extremely excited attitude: " You too!!! ".
Zedd
In November 2017, the world's top DJ – Zedd and BTS confessed their admiration for each other. Knowing that BTS is a fan of his through a post on the group's official Twitter page, Zedd also proved that he is a true ARMY.

Zedd's very friendly cooperation agreement sent to BTS (Image: Twitter Zedd)
Specifically, the guy responded to this tweet of BTS with the content: " Hello guys. I heard you guys want to collaborate with me. Then let's work together ". Right after that, BTS also quickly replied, " Let's cooperate ". It's not clear when this collaboration song will be released, but it will certainly be a blockbuster to look forward to because of the combination of a boy group and a top DJ in the world.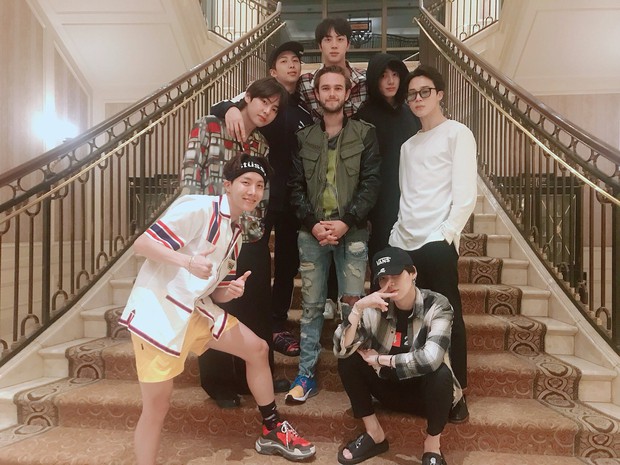 Hopefully, fans will soon hear a collaboration product between Zedd and BTS (Photo: Twitter)
Troye Sivan
BTS is a fan of Troye Sivan and the group once chose him as one of the artists they most want to work with in the future. Knowing this through a post on Twitter, Troyes Sivan once re-shared the article with the words "listening": "Hello (Hello)" . He also mentioned the name of BTS's official Twitter account, making fans excited.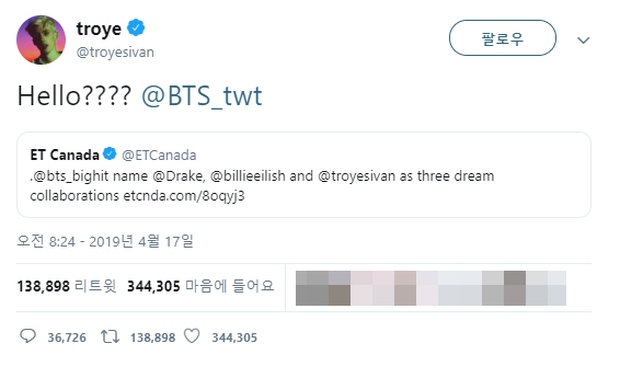 Troye greets BTS (Image: Twitter Troye Sivan)
Singer Angel Baby also once gave a "winged" compliment to the 7 boys of the HYBE family: " I'm always full of inspiration when I watch BTS's MVs. I don't know if any pop artists will be able to make MVs with them in the future. powerful, charismatic dance moves like they're not ."
Fifth Harmony
The famous American girl group Fifth Harmony with the 2.5 billion-view hit " Work From Home " is also a true fan of BTS. In 2017, Fifth Harmony had a fan meeting, where the American girls were asked by a fan about their thoughts on the group BTS.
Member Ally expressed, " BTS is amazing, they're super cute and incredibly talented. The group is slowly taking over the world! ".
" Kpop fans and BTS fans, do your best ," Lauren added.
" Kpop deserves that recognition, " commented member Dinah.
Ally added, " We really want to meet and collaborate with BTS ."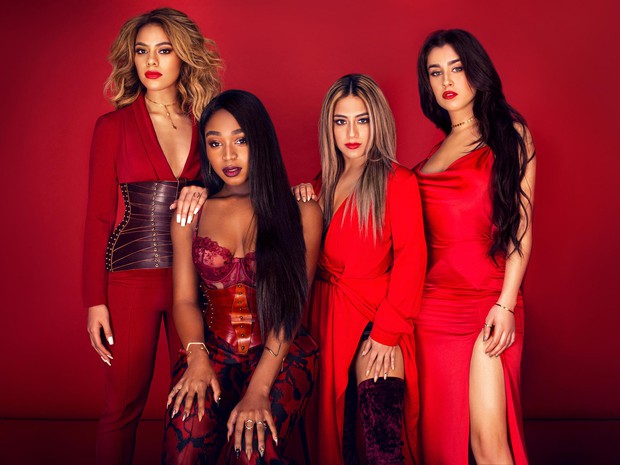 Although Fifth Harmony has disbanded, the fact that the girls are fans of BTS still makes ARMYs extremely proud (Photo: Twitter)
Photo: Twitter, Clip: YouTube
Thousand Peoples Friendship – Campaign to celebrate Friendship Month 2022 launched by Channel14 with the companionship of ZaloPay. With content routes and special activities, participating in Friendship of Ten Thousand Peoples is an opportunity for us to together "show off" our genuine friendship with lovely moments, memorable memories, to see the friendship. Ours is always beautiful, wonderful and proud.
ZaloPay with the message "Transfer money Zalo, The more you transfer, the closer you are, worthy of national friends" firmly believe that, behind each money transfer message in the chat frame is a lot of affection and respect from friends, relationships a relationship we hold dear.
Let's join Channel14 and ZaloPay to participate in the Friendship Thousand Peoples campaign and don't forget to include hashtags so we can find each other, friends!
Visit our ZaloPay at Fanpage!