In the late 3rd generation, early 4th generation idols, ITZY was once rated as one of the top girl groups. Right from its debut, ITZY went from a rookie group to the pinnacle of their career because of the explosive virality of the song " DALLA DALLA ", which is also the song with the highest digital score in the Kpop girl group in 2019.
But in contrast to the early debut stage, which resonated, later on, ITZY's career showed signs of a steady decline that perhaps any Kpop fan could easily notice. Despite continuously releasing music products, the achievements of ITZY's songs after each comeback have decreased gradually.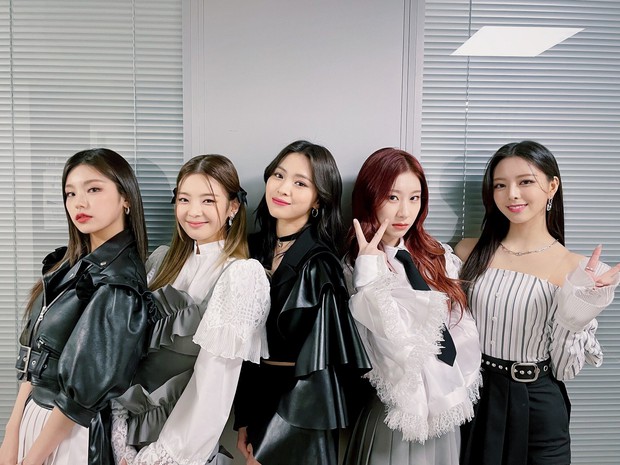 ITZY works hard to release songs but their results get worse with each comeback
ITZY used to be "on the scale" to compare with aespa, but now it can be seen that aespa is on a different level. And ITZY continues to be compared with the popular rookie group IVE. It can be seen that the groups that used to be rookies now have a certain reputation and coverage, and ITZY still seems to be "stagnant", even regressing because even though it has been more than 3 years since debut, ITZY still only be "weighed and measured" with emerging rookie groups.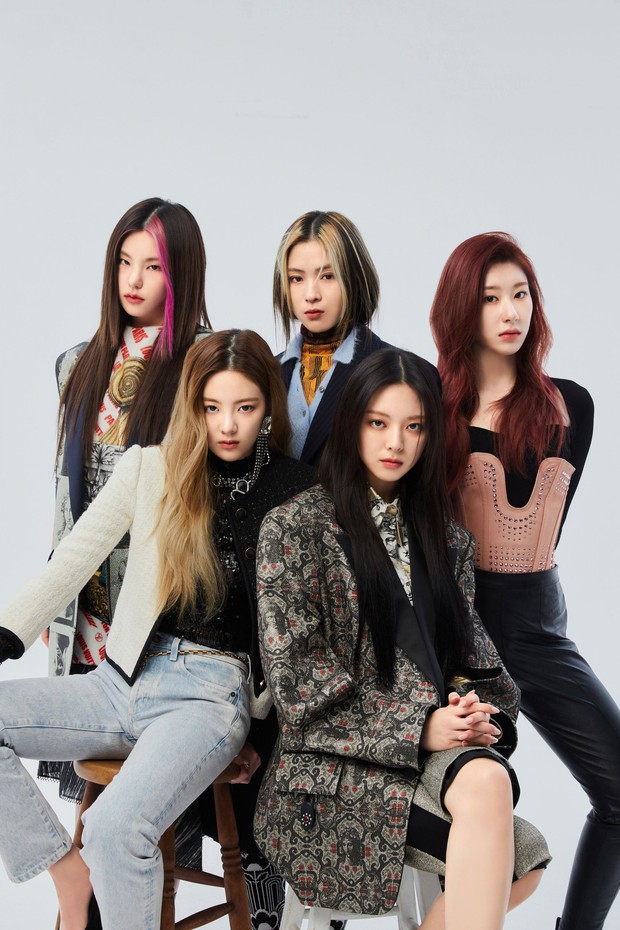 Once compared when aespa was a rookie, after 3 years ITZY is still only "on the scale" with another rookie girl group, IVE
Typically the latest song " SNEAKERS" , which is not unexpected by the majority of Kpop fans, ITZY once again showed a declining performance when the song's performance was worse than the previous LOCO product. Even compared to rookie IVE's song " LOVE DIVE " released 3 months ago or aespa's b-side song, ITZY 's SNEAKERS is still "no door".
Specifically, on YouTube, MV SNEAKERS received 10 million views after the first day of its release, losing 1.9 million compared to the previous song LOCO . On Spotify – which is considered the group's strength, SNEAKERS has slipped off the global charts.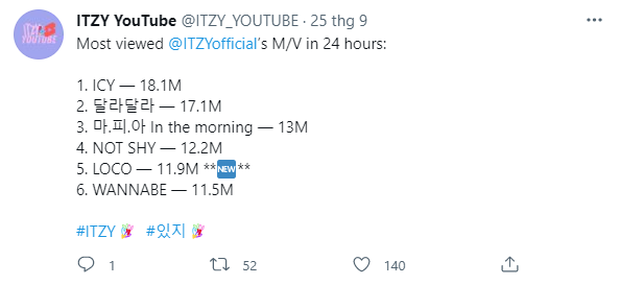 Views for the first 24 hours of ITZY's MVs decrease with each comeback, until SNEAKERS only 10 million views
The total number of listeners on the first day of the song also reached only 784,901 times, this is an alarming number when LOCO reached 1,238,882 plays. Before LOCO , In The Morning once "pocketed" 1,593,346 streams on the first day, so after just over a year, the first 24 hour stream of ITZY's title songs has halved.
SNEAKERS ' digital music business is also not very good. At the present time, the highest ranking achieved by the song is #4, #5 on Bugs' daily chart and real-time chart, the rest of the charts are all "discolored" out of the top 50. 2 days, but the digital achievement of SNEAKERS is still far behind the product released 3 months ago, " LOVE DIVE " by rookie IVE, and even worse than aepsa's b-side song " Illusion ".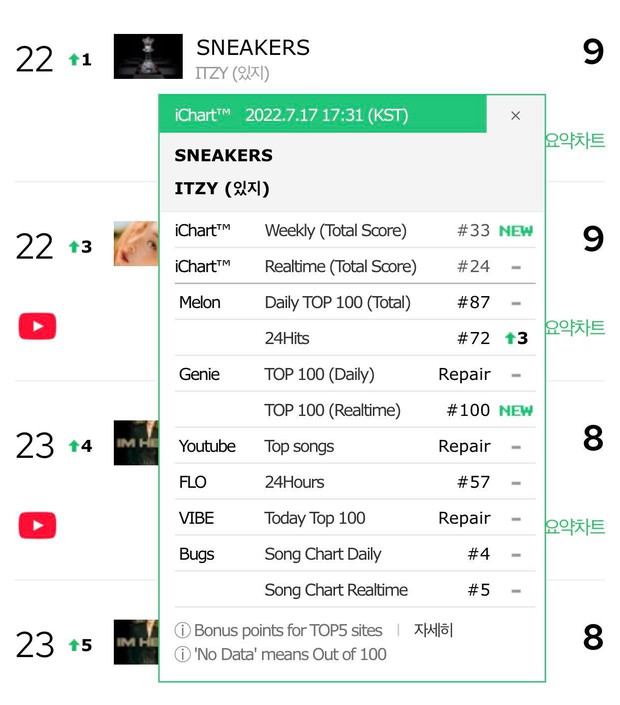 SNEAKERS digital music ranking…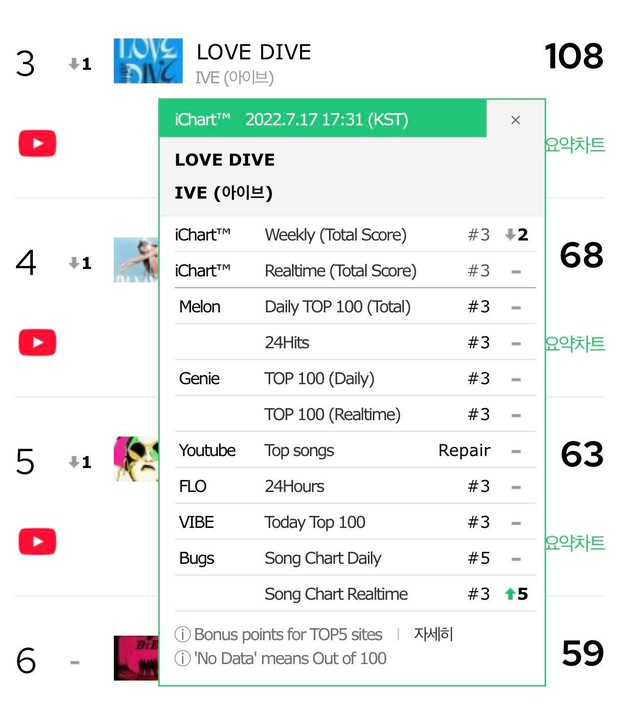 …beyond a song released more than 3 months ago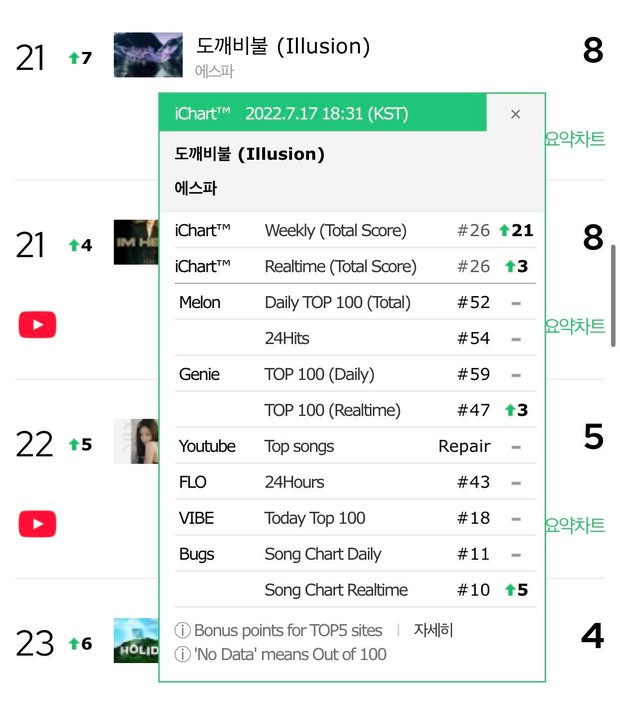 Overall, aepsa's Illusion still ranks higher
Some fan comments about ITZY's declining achievements:
– Honestly, ITZY's title song isn't even as good as other people's b-sides.
– The new song doesn't have a highlight, it just slips and falls. Over a year now, ITZY has stopped in Korea.
– Not much to say about the top 3 current 4th gen girl groups: IVE, aespa, (G)I-DLE.
– JYP always gives ITZY three-pointed songs, the group used to be so hot but now it's fading away.
– I wonder if the fans of this group are confident enough to show that ITZY is the top 4th generation girl group.
– This group is now flop too lazy to comment.
-JYP makes music for ITZY always has the same color, the same concept, the same mixed music and the chorus is the most lacking. No wonder the reputation keeps going down.
Photo: Twitter, Clip: YouTube