Not long ago, SM Entertainment announced SMTOWN LIVE will officially return in August of this year. The SM TOWN Live World Tour VI concert 5 years ago gathered 61 famous names in just one night. Therefore, the upcoming event is making fans extremely excited and looking forward to, especially the interactions between artists of the same company.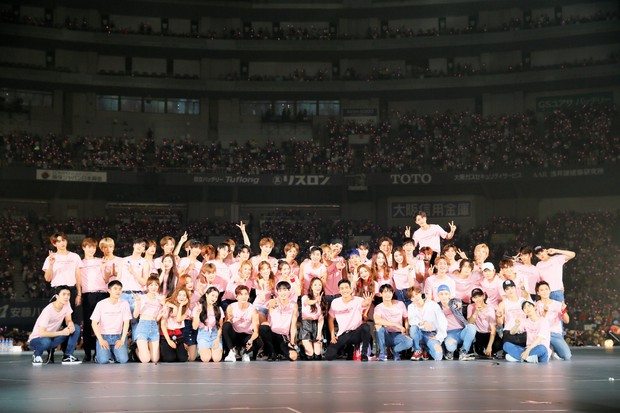 Gathering a group of popular artists, SMTOWN LIVE is always an event that many Kpop fans look forward to
On July 12, SM Entertainment officially announced the line-up of the SMTOWN LIVE 2022 event. A series of popular artists confirmed to attend and perform at the concert include: SNSD, BoA, TVXQ!, Super Junior, Red Velvet, NCT, aespa,… But what caught the attention of fans was the absence. The reason of member Sehun (EXO) is unknown.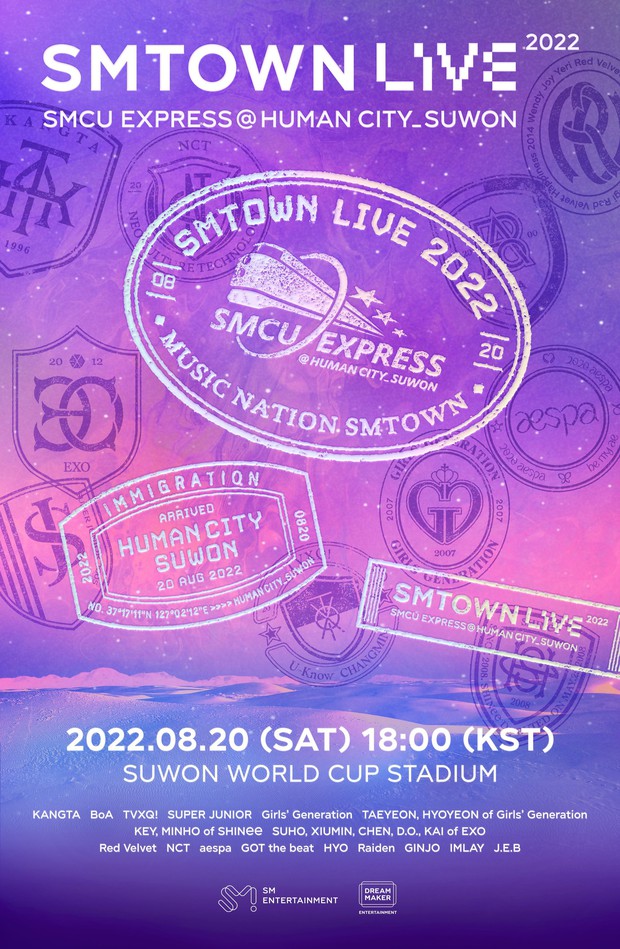 Popular artists will be present at SMTOWN LIVE 2022
EXO's 2 other names, Chanyeol and Baekhyun, are also absent because the 2 male idols are doing military service, the rest of the members are on the line-up. SHINee member Onew also did not attend due to a schedule in Japan. All absences at SMTOWN LIVE 2022 have a valid reason except for Sehun, that's why fans are raising the suspicion that he is being treated unfairly by the company.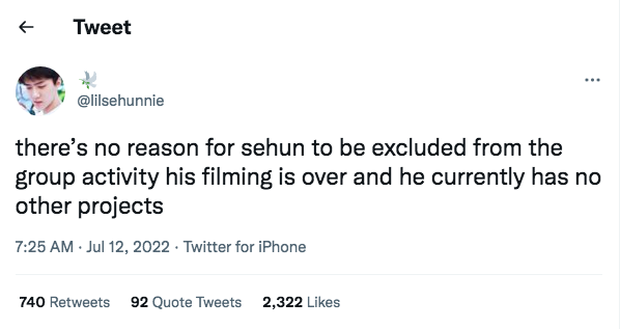 "There is no reason for Sehun to be absent from group activities, his filming schedule has ended and he currently has no other projects," one fan wrote on Twitter.
Immediately after the SMTOWN LIVE 2022 line-up was announced, a series of EXO-Ls (EXO's fandom name) and Sehun's fans expressed their anger at the company through many posts on Twitter. They think that Sehun's upcoming movie has already been filmed, the male idol also has a famous solo song and the concert is taking place in Seoul, so there's no reason for him to be absent.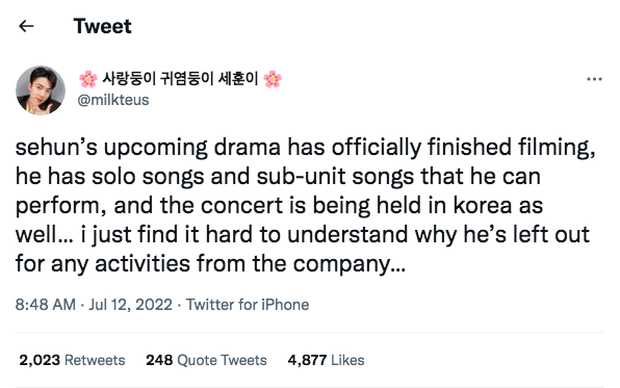 "Sehun's upcoming movie has finished filming, he has solo songs that he can perform and this concert is also held in Korea, why isn't Sehun participating in any company activities?"
This has caused the Kpop fan community to raise the suspicion that SM Entertainment has treated Sehun unfairly. Some fans also pointed out that this is not the first time, whether as an actor, photo model or EXO member, SM has many times considered Sehun as a "stepchild".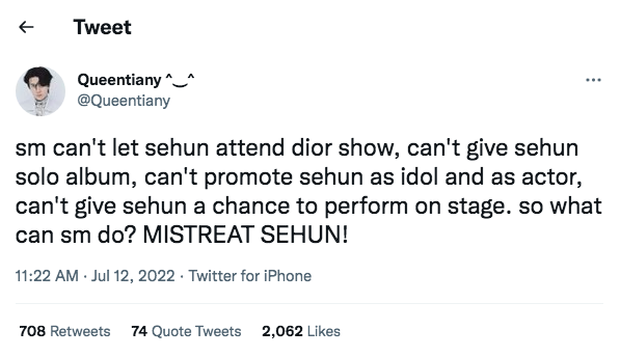 "SM didn't let Sehun attend the Dior show, didn't release a solo album for him, didn't promote him as an idol and actor, now don't give him a chance to perform on stage. So SM can What can you do? Treat Sehun unfairly!"
In recent years, Sehun has appeared more as a photo model or actor, so fans are looking forward to him returning to the stage as an EXO member. Sehun's fans came together to trend on Twitter to demand justice for Sehun with the hashtags #SM_TreatSehunBetter (SM should treat Sehun better), #SEHUN_DESERVES_BETTER (Sehun deserves to be treated better),.. .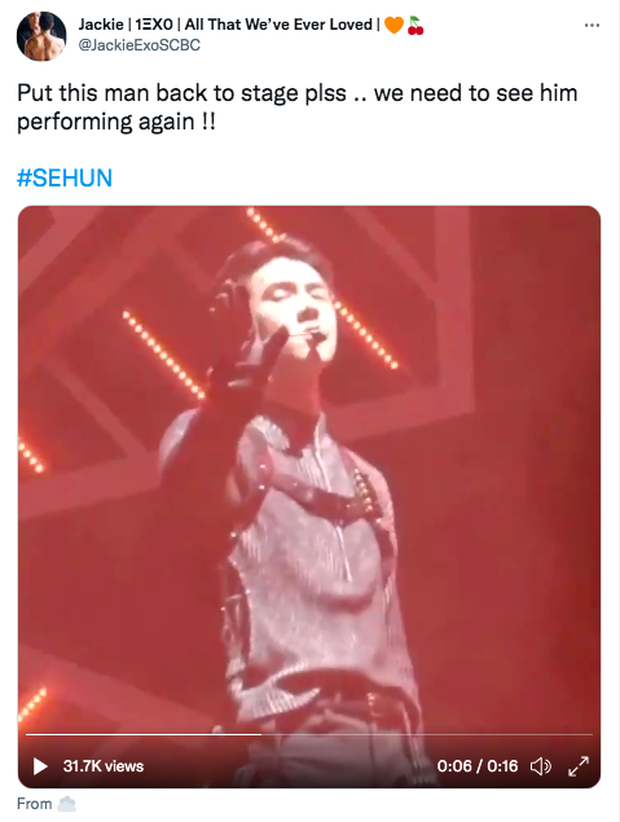 "Put this guy back on stage. We need to see him perform again."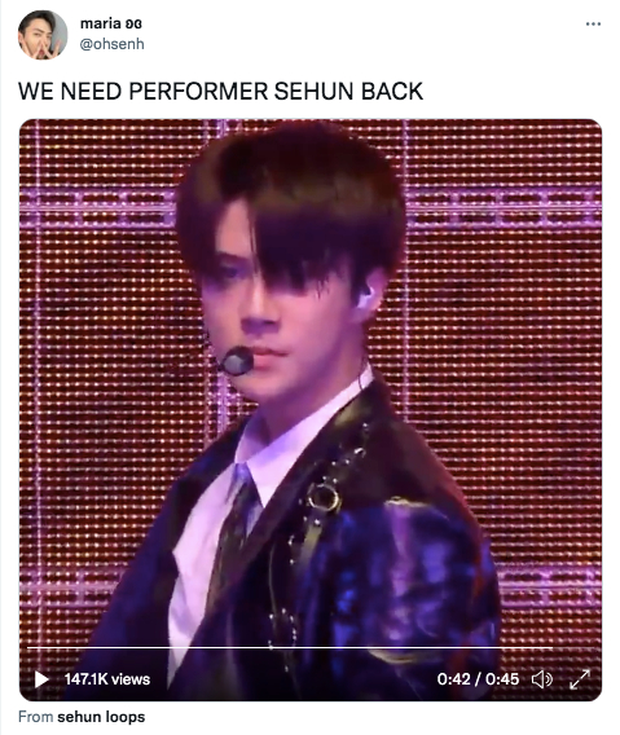 A lot of fans are asking SM to bring Sehun back on stage as an EXO member
Besides, there are many information that Sehun's absence in SMTOWN LIVE 2022 is due to the guy's schedule to shoot a scene of the movie Barbie . However, this information has yet to be confirmed and fans are still waiting for an official explanation from SM Entertainment.
Hopefully SM will soon explain about Sehun's absence at SMTOWN LIVE 2022 and hope he will soon return to music activities with EXO.
Source: Koreaboo, Photo: Twitter