The battle for the top 1 spot in the Gen 4 girl group is becoming hotter than ever with the participation of a series of famous names such as: aespa, ITZY, (G)I-DLE and IVE. Therefore, the latest comeback achievements of these 4 groups are receiving much attention from the public.
While aespa continues to maintain its temperature with a series of good achievements every time they return, the once "rival" ITZY is showing alarming signs of retreat. The race also witnessed two more potential unknowns, although not from big companies, (G)I-DLE and IVE.
aespa makes a spectacular comeback with Girls, breaking BLACKPINK's record
On July 8, aespa officially had an impressive and spectacular comeback with Girls , making fans stand still. The song belongs to the dance genre with a strong melody, which is the ending part of season 1 in the group's SMCU universe.
aespa – Girls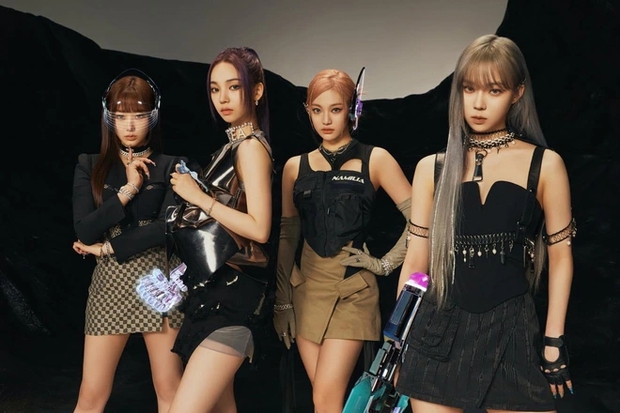 aespa with female warriors
Previously, aespa also made a strong impression when setting a record of more than 1.61 million pre-orders. This is also the album with the highest pre-orders in the sales of Kpop girl groups, surpassing even BLACKPINK's The Album , proving that aespa's album sales are not inferior to famous boy groups.

Girls help aespa break the previous record of BLACKPINK
As of July 14, the group's album " Girls " has sold 1,126,068 million copies on Hanteo, making aespa the first K-pop girl group to achieve this feat. On iTunes, Girls also excelled when debuting at #1 on Worldwide iTunes Album Chart and #1 on top albums in 13 countries.
On July 17, Billboard also officially announced that aespa's mini-album " Girls " debuted at #3 on the Top 200 Albums chart in the US, becoming the 3rd girl group in history after BLACKPINK and TWICE to achieve this feat. However, SM's girl group is the fastest girl group to reach the top 3 with just over 2 years of debut, showing the increasing unmistakable charm of aespa.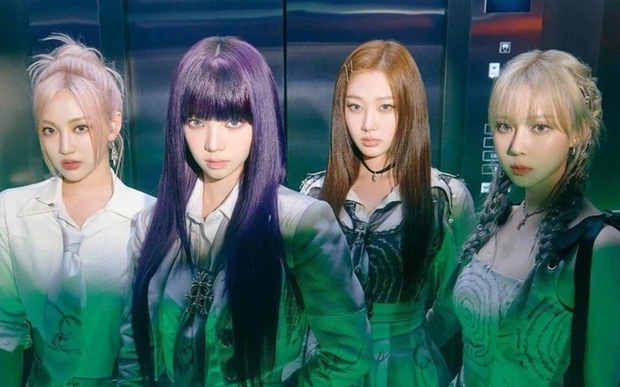 Girls have shown aespa's great power on the Kpop map
ITZY is gradually "regressing", the achievement is increasingly alarming
On July 15, ITZY officially joined the Kpop race with the mini-album CHECKMATE and the title song " Sneakers ". However, contrary to expectations, this song is having a bad ranking, worse than the previous Loco product.
ITZY – Sneakers
Specifically, Sneakers only reached the highest ranking of #4 and #5 for Bugs' daily chart and real-time chart, the rest all "flipped" out of the Top 50. Although it's only been released for 2 days, the music achievements ITZY's number is even worse than the product released 3 months ago, IVE's Love Dive or aespa's b-side song Illusion .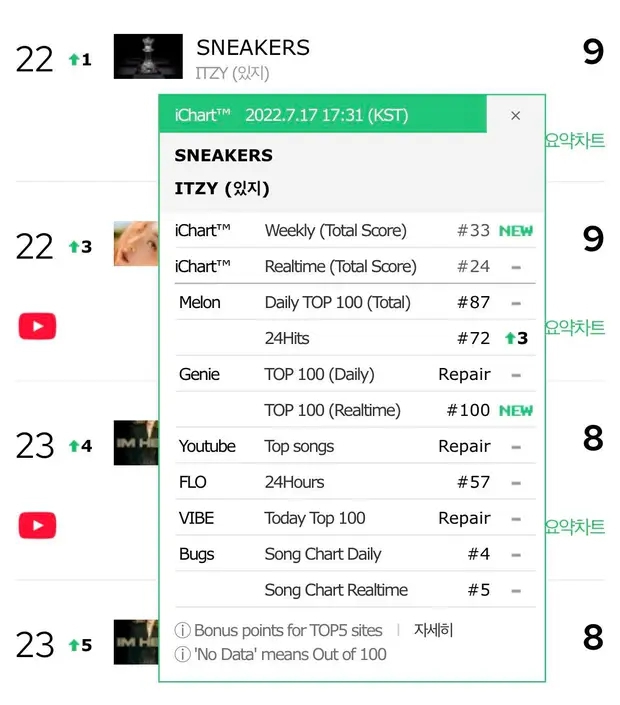 ITZY's bad digital music rankings
This is an alarming step backwards for ITZY when the JYP girl group used to be the girl group with the highest digital score in 2019 with Dalla Dalla . Even on Spotify – which is considered the group's strength, Sneakers also slipped off the global charts. The total number of listeners on the first day of this song only reached 784,901, halving compared to Loco .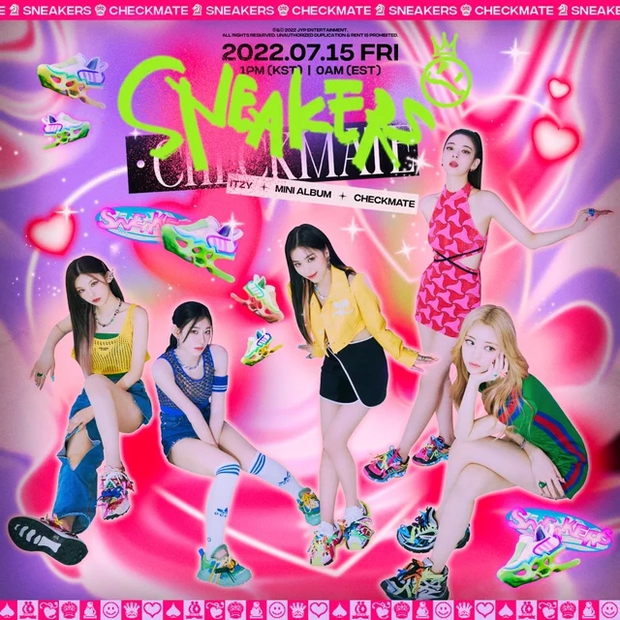 Sneakers show ITZY's increasingly backward achievements
ITZY was once considered one of the top girlgroups of Gen 4 since their debut, often being put on the "weight table" to compare with aespa. However, now aespa is on another level, even in terms of achievements, the JYP girl group is still "weak" against IVE and (G)I-DLE.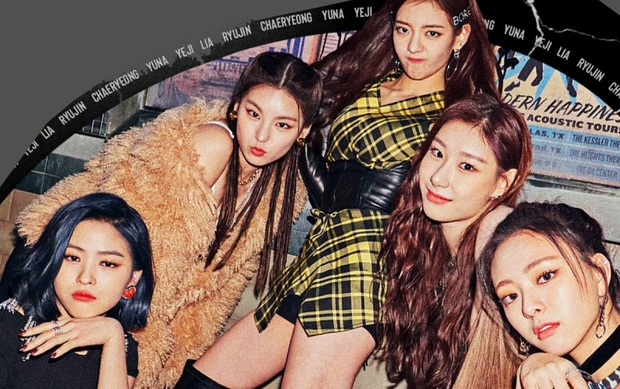 ITZY is gradually becoming weaker in the battle for Top 1 of Gen 4 girl groups
(G)I-DLE comeback after Soojin left the group: Breaking the charts, marking a new record in the music career
After Soojin's scandal as well as the female idol's announcement that she would officially leave the group, the future of (G)I-DLE at that time was still a mystery and was always a topic that was actively discussed by the Kpop fan community. And Tomboy is like a very strong affirmation of the CUBE girlgroup about a promising and potential future.
Tomboy – (G)I-DLE
With a catchy, catchy melody combined with an addictive hook, Tomboy quickly won the hearts of many fans. This song has helped (G)I-DLE achieve many good achievements, including the first Realtime All-kill in the career of the CUBE girl group. This is also the first song of an idol group to achieve this achievement in 2022. After winning, (G)I-DLE continues to "green" the chart, officially achieving the Perfect All-kill certification. with Tomboy .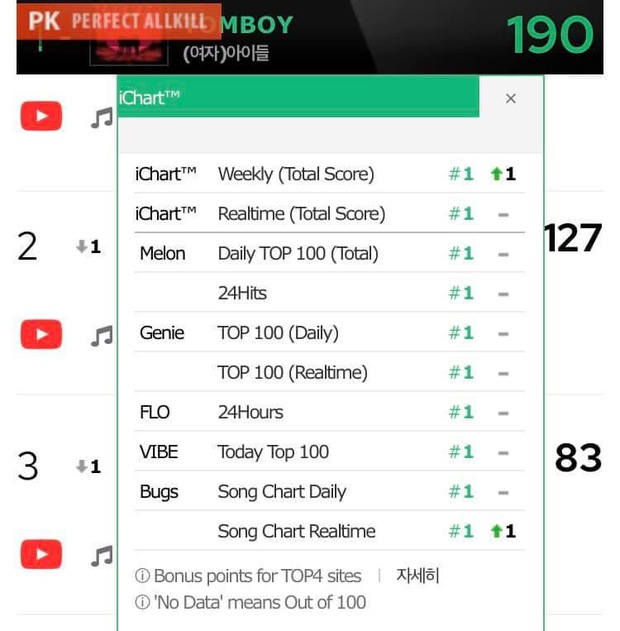 (G)I-DLE's Tomboy helps the group get the first Perfect All-kill in their career
With an impressive digital music record, Tomboy also reached the Top 10 songs with the most hours of Perfect All-kill and is also the only representative from Gen 4 to participate in this chart. This is an admirable achievement that helps (G)I-DLE become one of the formidable names in the Kpop race.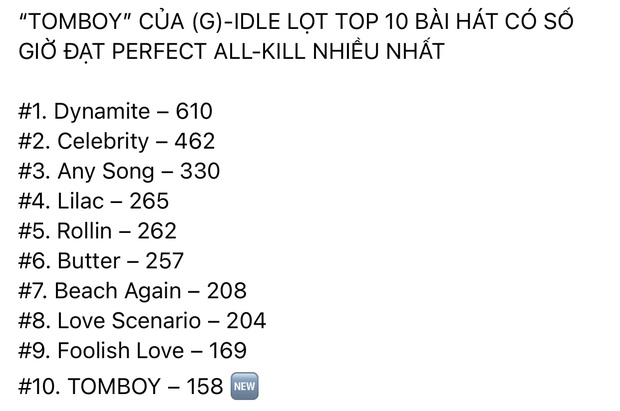 Tomboy is the only representative of Gen 4 in the Top 10
(G)I-DLE is still a formidable unknown in the Gen 4 girlgroup war
Rookie IVE with potential and breakthrough with super hit Love Dive
Although not belonging to a big company, IVE is being evaluated as one of the most famous 4th generation girl groups today with an impressive series of achievements. After a very successful debut with Eleven , Starship's "pet chicken" quickly returned with Love Dive to continue the series of admirable achievements.
Love Dive – IVE
With an addictive, catchy tune, Love Dive brought the first Realtime All-kill in IVE's career. Worth mentioning, when this product was released, it faced many heavyweights like (G)I-DLE's Tomboy , BIGBANG's Still Life … but Love Dive still did its job when "greening" the chart.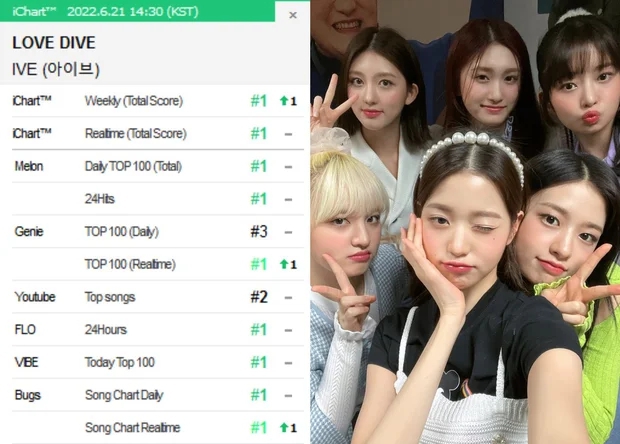 Love Dive brings great achievement in IVE's career
Not only was it successful in the country, but Love Dive also achieved high digital music rankings on foreign charts, making everyone admire and can't believe the series of achievements that this rookie is reaping. The song debuted at the Top 10 of Apple Music Global, becoming the third group after BTS and BLACKPINK to achieve this achievement.
The group also excellently sold more than 338 thousand album copies, reaching #6 in the chart of albums with the highest first week sales of a girl group on Hanteo. After 5 years since senior Taeyeon's album and 7 years since SNSD's album, IVE became the next female group/artist No.1 on GAON best-selling album chart of the month.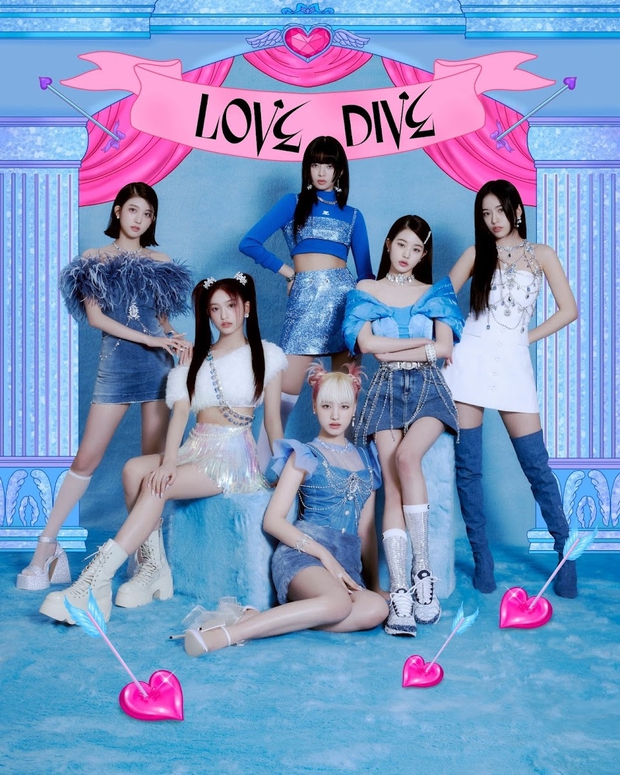 Love Dive brought IVE many impressive achievements in both digital music and albums
In particular, even though it has been released for 3 months like Love Dive , it is still clinging to the charts when helping IVE continue to win on music shows. This is also the song that has won the most trophies on music shows in 2022 up to the present time and has not shown any signs of cooling down.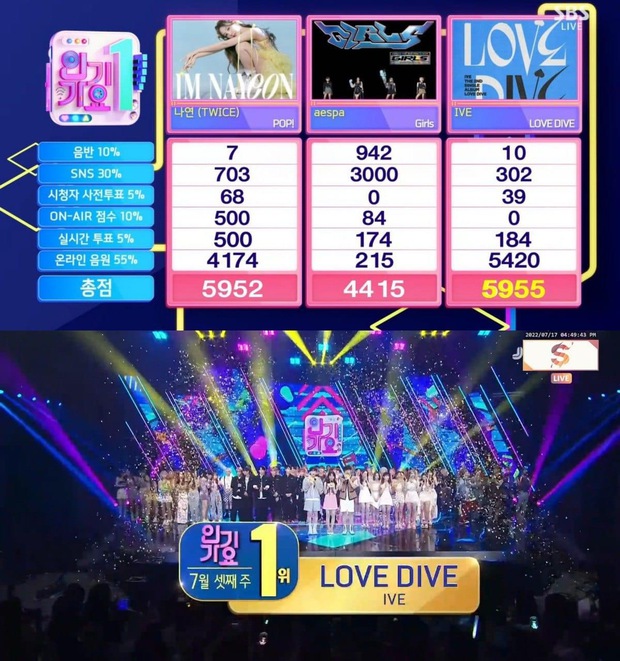 Love Dive still brought home trophy for IVE even after 3 months of release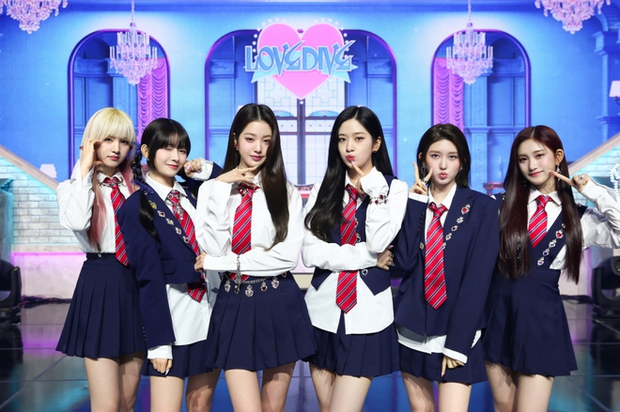 IVE is arousing the public's anticipation when confirming their return to the Kpop race in August, directly confronting a series of popular girl groups Gen 2,3 such as SNSD, BLACKPINK, TWICE.
Source: YouTube, Twitter