With the current "solid" position, anyone who mentions BTS will also glimpse some of the international imprints of the Korean group, even those who don't follow Kpop. Literally "rising from the ashes", BTS started without a pedestal as leading entertainment companies. But with talent and music touching the hearts of the public, BTS gradually asserted their name and became a "wall" that is difficult to overcome. Asia's leading music industry can create hundreds of new groups every year, but to create a second BTS, seems impossible.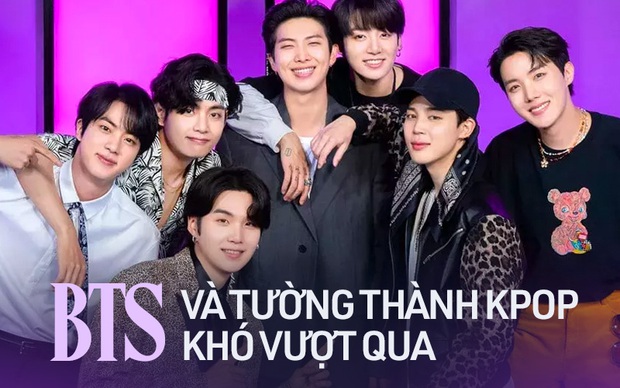 Reviving a debt-ridden entertainment company to become a leading entertainment power
BTS was released by Big Hit (now HYBE) in 2013 when it was on the verge of bankruptcy with a huge amount of debt. The 7 trainees at that time , Jin, Suga, RM, j-hope, V, Jimin and Jungkook had to practice while working part-time. In 2014, just one year after debut, BTS's senior, girl group GLAM, was involved in a shocking scandal that ended up disbanding, Big Hit continued to struggle and shoulder a debt of more than 50 billion. Rookie groups like BTS don't get the right amount of investment. 7 guys actually went from negative to nil.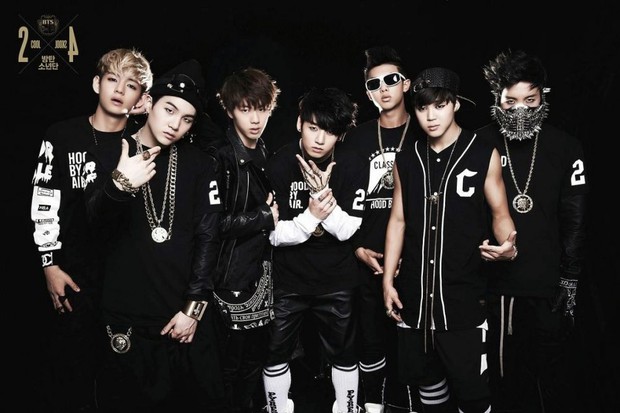 BTS when they first debuted and shaped in a hip-hop style
In the first years of operation, BTS was completely inferior to the group that debuted at the same time, EXO. BTS held the first fanmeeting with only one hundred and fifty fans in the park, went to the US to distribute leaflets, held a free concert for two hundred spectators, took advantage of filming a reality show with detailed expenses. most economical. The later success of BTS made the audience admire because of the thorny journey that the group went through, when it came to this time, leader RM and the members couldn't hold back their tears.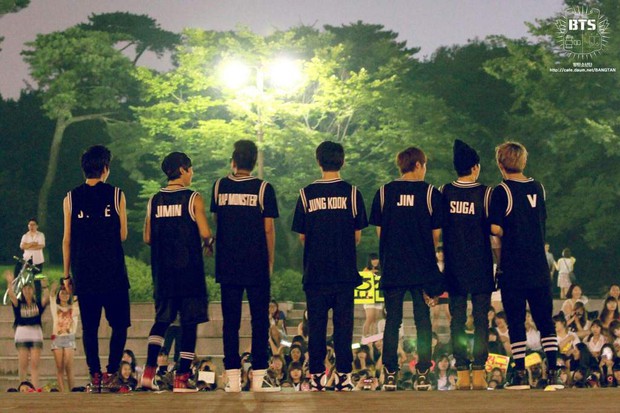 BTS in the early years of their activities held fanmeeting in the park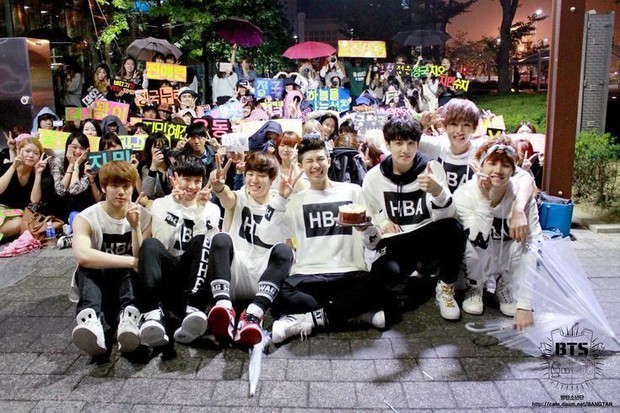 with the most economical cost
Starting from the consecutive hit Spring Day – Fire in 2016, BTS's career flourished and developed rapidly. Just three years, BTS reached beyond the Korean border and became a successful global group Big Hit from a company that was about to go bankrupt to become the top entertainment group HYBE in Korea.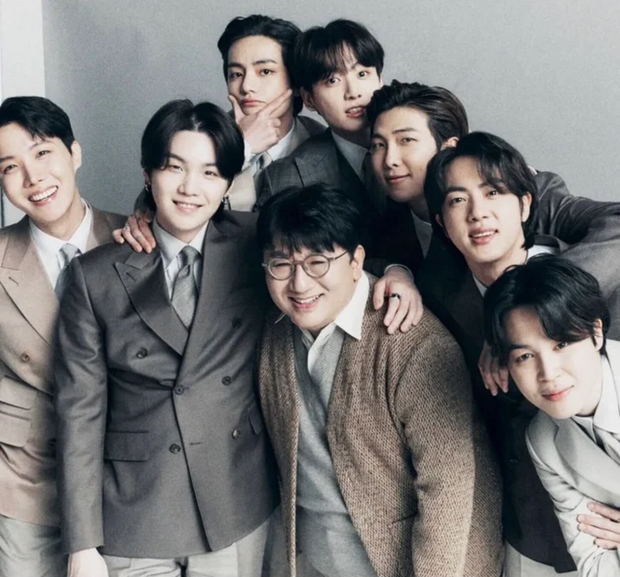 BTS and HYBE president Bang Shi Hyuk
Music of healing
Touching the listener's heart with the motto of music is "healing", leader RM once said about what BTS always pursues in products that make the public admire: " If your pain is 100 and if we can soften them down to 99, 98… then the value of BTS' existence is enough." The global success of BTS certainly comes from the music.
President Bang Shihyuk once shared in an interview after BTS became famous, he launched BTS with the requirement that the members create music that speaks to their hearts, with the decisive criterion being sincerity. . BTS debuted when Jin – the oldest brother was 21 years old and the youngest Jungkook was not yet 16. As young people, not allowed to "take a golden spoon", going through the arduous training process, BTS understood what pain is. It is no exaggeration to say that BTS's music is for the underprivileged group, when the boys themselves were once children who had to challenge themselves to find the glory.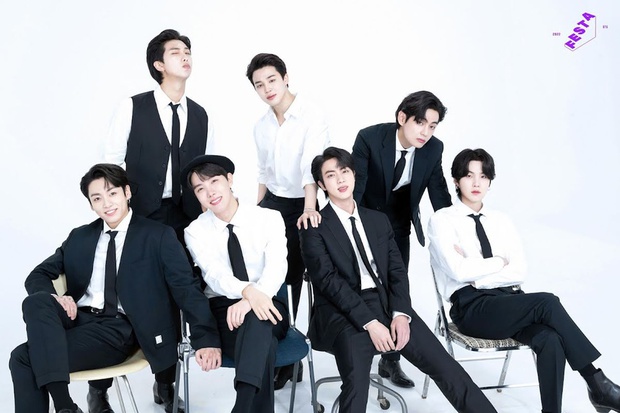 The color of BTS's music, whether it's strong or gentle, is for the wounded souls
BTS was originally a hip-hop group, with strong, aggressive colors in debut songs like No More Dream, Boy In Luv, Danger,… This is BTS' first ego, gritty and angry. evil. The main inspiration in BTS's first hip-hop songs is the worldview of teenagers in a society full of pressure and unproven self-doubt that has been buried by prejudice. Through these songs, BTS conveys the group's first message to those who cannot find the motivation to live, that to keep dreaming and dreaming strongly.
No More Dream is a consolation for teenagers who are still at a crossroads, "go on your way, even if you only have one day to live, do something and put aside the weakness" (translated lyrics).
BTS – No More Dream
BTS dedicated their entire album Love Yourself to "love yourself" – using BTS' music to heal your soul. With the responsibility of personally entrusting and comforting wounded souls with music stories, BTS has done it excellently. Since this era, BTS's music has been remembered by audiences all over the world for its healing music. Regularly releasing products year after year, BTS owns a huge musical "treasure" that does not overlap with any theme, from dreams, desires, struggles to friendship, love and an aspect. special: mental health.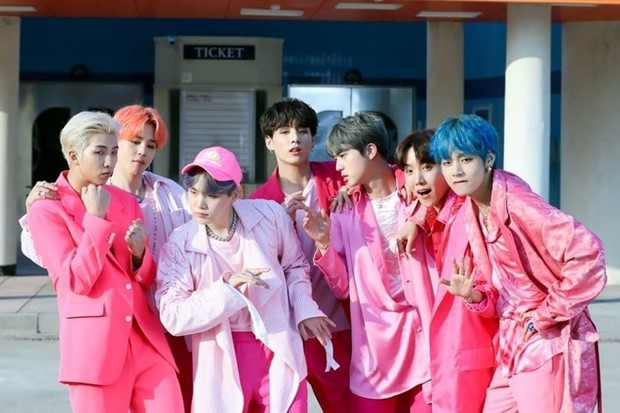 BTS is a rare K-pop group that focuses on the mental health aspect. BTS's music makes listeners feel empathy. Especially young people who are living in a pressurized modern world, with psychological trauma surrounding them. Many people come to BTS and become loyal fans because they feel accompanied. An Army once shared about the process of fighting depression, attracting attention when talking about BTS and their music: "Enjoying the artist and human side of BTS over the past 3 years is the key. The key to escaping and facing my own sadness was just by listening to music, watching them perform on stage, or seeing their authenticity in interviews or TV shows for me. I feel like I'm not alone."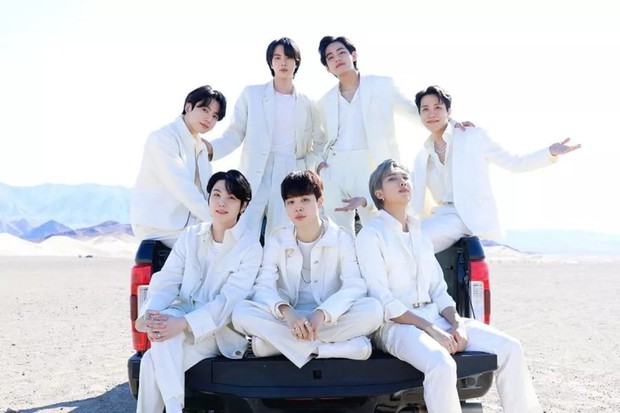 9 years of BTS's career and music with spiritual values are always kept intact
Over the years, BTS's music will change and transform, but in general, BTS's compositions have a unified purpose from debut to becoming a spiritual support for millions of hearts. that music is the cure for the soul. And when that time came, BTS's music exploded and was received by the whole world.
A "pure Korean" group conquers the world
Starting from the handshake with Halsey in " Boy With Luv " released in 2019, BTS has clearly demonstrated an open international path. Despite successfully conquering world music, BTS is still a "pure" Korean group. The boys that year, when they just stepped out into the world, with English skills not as good as other groups of the same time, still succeeded in making their first impressions.
RM is the most fluent in English out of the 7 members. He acts as the leader leading the group on the path of international promotion. The remaining members can communicate in basic English, but to perfect in big speeches, they still need to be able to speak fluently and inspire. The language barrier did not stop BTS from releasing English songs and successfully conquering the Billboard Hot 100 chart with Dynamite . For the first time, a Korean group released an English song that climbed straight to the top of the strict US music chart. It is a record set by BTS that is hard for anyone to surpass.
BTS and the first English song Dynamite
BTS is a multi-talented group, each member has their own strengths and is effective in their common career. Not only dividing the main role of rapper/dancer/vocal like most K-pop groups, BTS also has members in charge of composing and producing music. Fans are definitely familiar with the fact that two members Suga, j-hope are included in the group's music production credits, RM composed and maknae line (youngest group) including Jimin, V and Jungkook ensure popularity. BTS communication.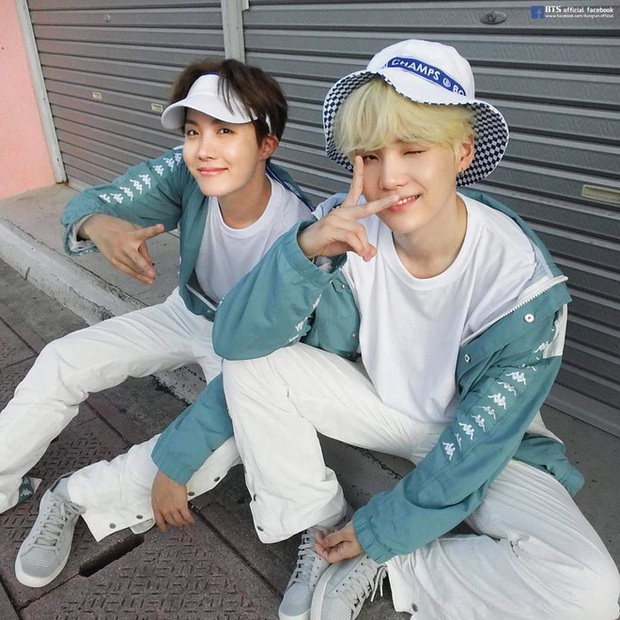 BTS' multi-talented couple j-hope and Suga often participate in music production for BTS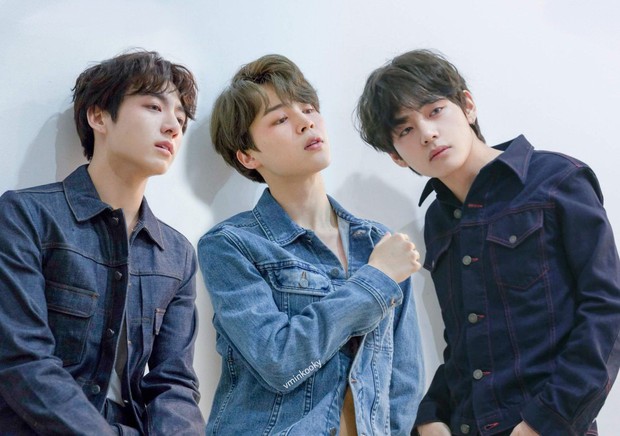 3 members Jimin, V and Jungkook are BTS's media "guarantee"
Irreplaceable group
With the current influence, BTS is exactly the irreplaceable group of Kpop. 9 years of operation, BTS has brought home a series of "unprecedented" international records. BTS owns 6 songs that reached #1 on Billboard Hot 100 including Life Goes On, Dynamite, Butter, Permission to Dance, My Universe (with Coldplay) and Savage Love (remix). This is a formidable achievement that not every artist in the world has achieved.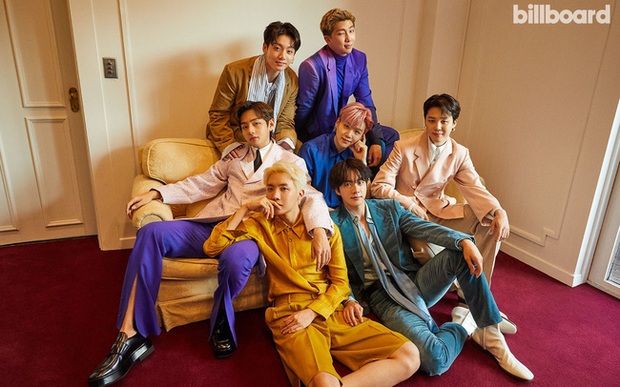 BTS sets a record on Billboard Hot 100 with 6 songs that once occupied the top 1
BTS is the first Kpop group to receive two Grammy nominations in 2020 and 2022 with the same category of Best Pop Duo / Group Performance (best Pop performance). Although not officially holding the prestigious golden trumpet, the fact that BTS received two nominations for this academic music award also proves that BTS's music is not only popular with the masses but also recognized by the public. take.
BTS on the Grammy 2022 red carpet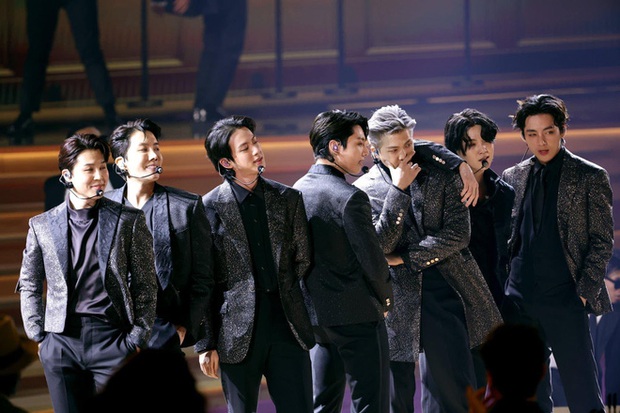 BTS' Butter Performance Stage at the Grammys
BTS's Grammy performance stage also became a typical milestone in the group's career. In addition to the Grammy , BTS has also continuously received nominations and international awards such as VMAs, AMAs, Billboard Music Awards, etc. BTS's contributions have contributed to creating a solid foundation for K-pop to go further on the album. international music.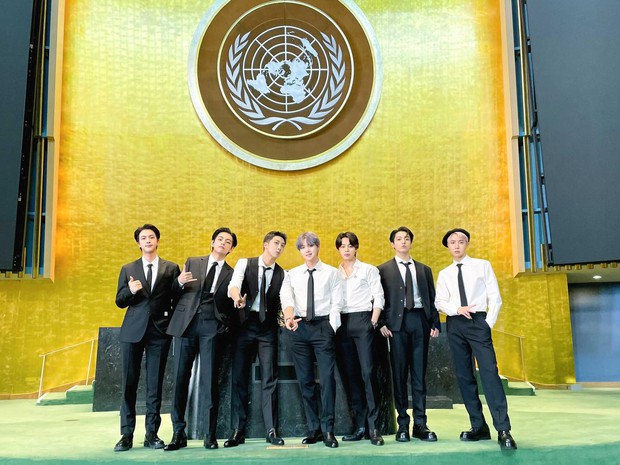 BTS at the 76th meeting of the United Nations spoke about "Young generation in the age of Covid-19"
Not only music, BTS is also a model for millions of young people around the world when speaking at the United Nations many times. 7 boys are honored to become "special envoy of the president of Korea" representing the young generation in terms of culture. Since their first speech at the United Nations in 2018, BTS has become an inspirational "patron" at global summits.
Because of their great contributions to the Korean music industry, BTS's enlistment in the army is of great interest to the public. In December 2020, the Korean National Assembly decided to pass the "BTS law", this law allows K-pop artists who have received government medals for their achievements and contributions to improving national prestige. until the age of 30, 2 years later than the normal age limit. This is a law that was completely passed due to the influence of BTS. Perhaps Korea itself is afraid that BTS's 2 years of military service will hinder their career progress, and more importantly, affect the popularity of K-pop on the world map.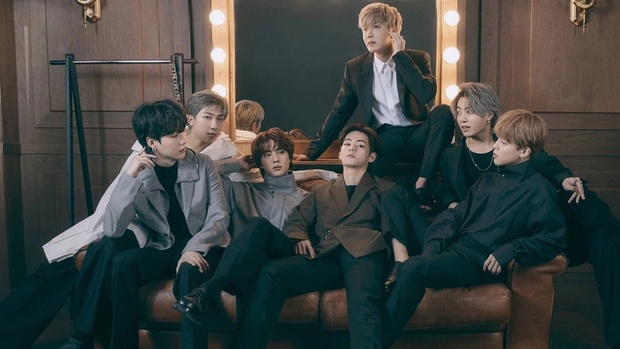 BTS has now entered the second chapter of their career, and the group's new direction is to focus more on the members' individual activities. As soon as this information was announced, Kpop fans were "boiling" for fear that BTS would stop promoting, the company's stock immediately dropped. A small proof that shows the great influence of BTS on Kpop. Although time passes, there may be another group to replace BTS, but to create a second BTS is an impossibility. All of the groundbreaking elements in BTS' music, career and journey are "unique" that the music industry can't duplicate.
Photo: Internet